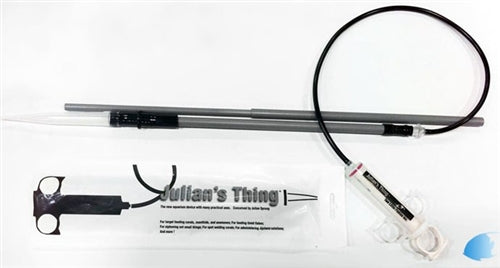 Two Little Fishies Julians Thing
So what is it? It's a high-quality syringe featuring a thumb and finger(s) grip for contoured control, even with wet, slippery hands. The syringe is connected to an elongated plastic tube via a black rubber hose, allowing you to reach deep into the aquarium with ease.
What can you use it for? A TON of things. A few uses include coral feeding (especially useful for NPS tanks), pest control via liquid eradication, or even removing fine algae-buildup on the sandbed. The best part? It's expected to retail in the neighborhood of $30-40, making it an affordable tool for a wide range of regular aquarium maintenance. Keep an eye out at your TLF-authorized LFS and online retailers for Julian's Thing in the coming months.
l