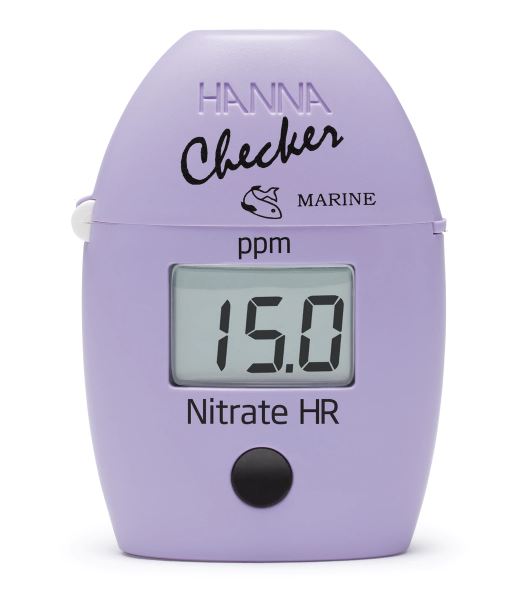 Hanna Marine Nitrate High Range Checker
The HI782 Marine Nitrate High Range Colorimeter is specifically designed to quickly and accurately determine high levels of nitrate for saltwater aquariums and marine applications. With a digital read out, there is no more struggling to determine colors visually.
• Measurements with a range up to 75.0ppm
• Less complex laboratory grade accuracy - Requires only 1 reagent
• Simple, intuitive digital operation
• Compact and precise whether at home, at work, or on-the-go
Nitrate is the final step in the Nitrogen cycle. Excessive amounts of nitrates in saltwater aquariums facilitate the growth of undesirable organisms such as algae and dinoflagellates. The HI782 is a simple, accurate, and cost-effective way to measure nitrate from 0.0 to 75.0 ppm (as NO3–) in your saltwater aquarium.
The HI782 Nitrate Checker HC uses the Zinc Reduction method to measure the concentration of nitrate colorimetrically. The HI782 provides quick, accurate results in four easy steps:
Features at-a-glance:
For use with saltwater samples.
More accurate than chemical test kits.
Dedicated to a single parameter.
Small size, big convenience.
No errors with a digital readout.
Ideal for aquariums and marine biology applications.
HI782 High Range Nitrate Checker vs HI781 Low Range Nitrate Checker
The HI782 was designed to quickly and easily measure nitrate levels for aquarists with higher-than-average nutrient levels. This includes saltwater aquariums that are fish-only or have corals that can tolerate elevated levels of nitrate at 30 ppm or more.
Very low levels of nitrate are critical for many saltwater reef aquariums, as nitrate can cause damage and possible death to certain delicate corals and invertebrates. For this reason, the HI781 offers unmatched precision in the measurement of very low levels of nitrate (0.00 to 5.00 ppm). For freshwater samples, Hanna Instruments recommends using the HI97728 Nitrate Portable Photometer.
Range
0.0 to 75.0 ppm (as NO3–)
0.0 to 50.0 ppm (calculated) using dilution
Accuracy @ 25°C/77°F
±2.0 ppm ±5% of reading @ 25 °C (77 °F)
Light Source
LED @ 525 nm
Light Detector
silicon photocell
Method
Zinc reduction method. The reaction between nitrate and the reagent causes a pink tint in the sample. This checker has been developed to work with seawater samples.
Battery Type
(1) 1.5V AAA
Auto-off
after ten minutes of non-use
Environment
0 to 50°C (32 to 122°F); RH max 95% non-condensing
Dimensions
86.0 x 61.0 x 37.5 mm (3.4 x 2.4 x 1.5")
Ordering Information
Each HI782 is delivered in a case with custom insert and is supplied with sample cuvette and cap (2 pcs.), Marine Nitrate High Range reagent starter kit (reagents for 10 tests), 3 mL Pasteur pipette (1 pc.), 1.5V AAA Alkaline battery (1 pc.), and Instruction manual.
Reagent Set
HI782-25 (25 tests)