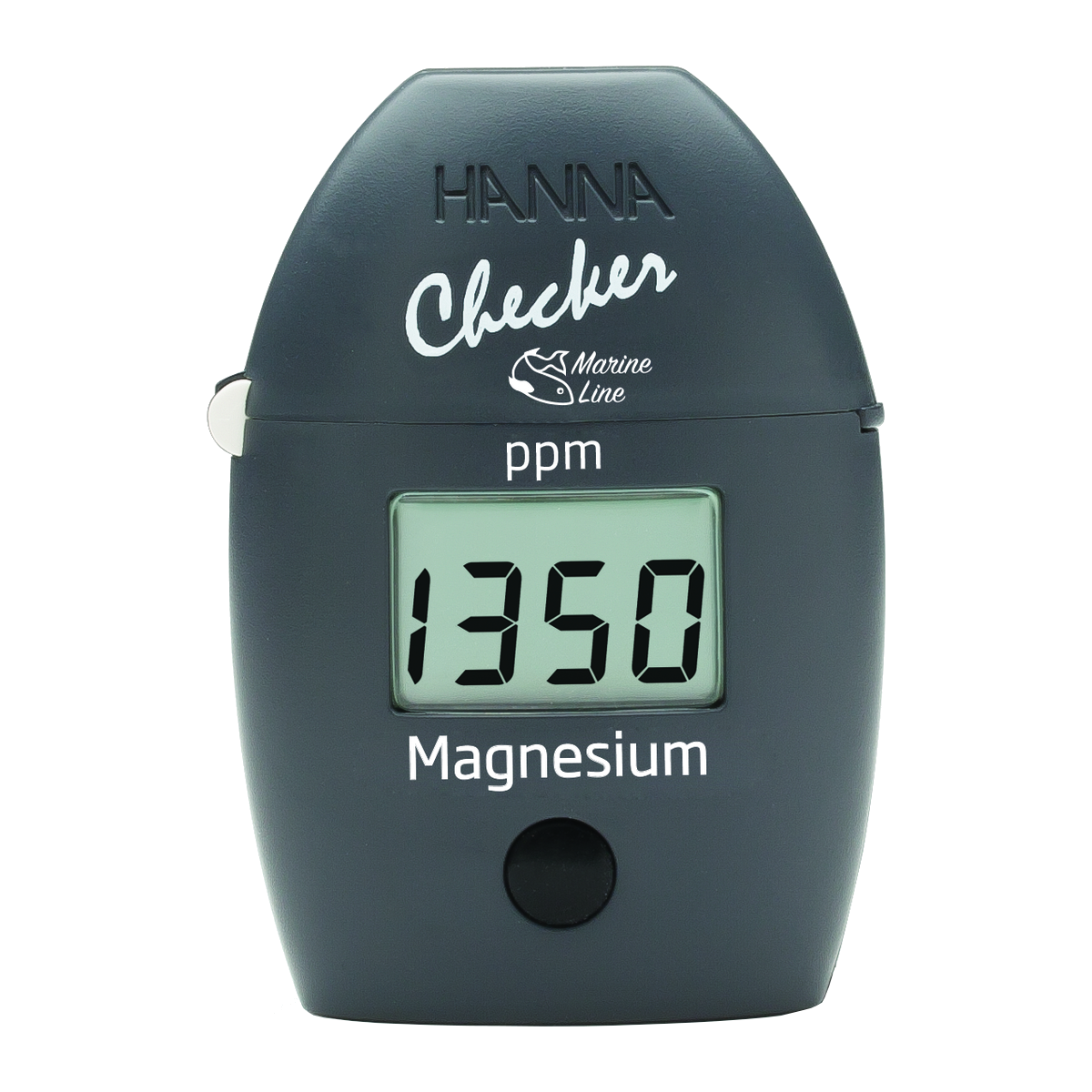 Hanna Magnesium Checker
Magnesium is a crucial element in saltwater environments, as it allows calcium and carbonate to be bioavailable for corals and other invertebrates. Therefore, consistent and accurate testing of magnesium levels in your marine aquarium is vital to ensure a healthy and thriving system.
The HI783 Magnesium Checker HC by Hanna Instruments provides a simple, accurate, and affordable way to measure magnesium in saltwater/marine environments. Its color-coded syringes and straightforward testing strips ensure quick and hassle-free measurements, every time. With a digital read out, there is no more struggling to determine colors visually. 
Ideal for saltwater aquariums, marine biology, and aquaculture applications

Easier to use and more accurate than other chemical test kits

Color-coded syringes for simple and effortless testing

Dedicated to a single parameter

Simple one-button operation

Large LCD digital read out for added convenience

Auto shut-off to assure the battery wont be drained

Compact size for easy travel and storage
Specifications
Range:

 

1,000 to 1,800 ppm Magnesium
Resolution:

 

5 ppm

Precision:

 

±5% of reading @ 77°F (25°C)

Light Source:

 

LED @ 610 nm

Light Detector:

 

Silicon photocell

Environment:

 

0 to 50°C (32 to 122°F); max 95% RH non-condensing. Prepared sample cuvette (sample plus reagents) must be 18 to 28 °C (64 to 82 °F).

Battery Type:

 

(1) 1.5V AAA

Auto-off:

 

After 10 minutes of non-use

Dimensions:

 

86 x 61 x 37.5 mm (3.4 x 2.4 x 1.5")

Weight:

 

64 g (2.3 oz.)

Method:

 

Adaptation of the colorimetric EDTA method using calmagite indicator. The reaction between magnesium and the reagents causes a blue to violet tint in the sample.
Interferences:

 

Calcium below 300 ppm and above 500 ppm
Reagent Set:

 

HI783-25

 

(25 tests)
Calibration Set:

 

HI783-11
Warranty:

 

1 Year
What's Included?
(1x) HI783 Marine MagnesiumChecker HC 

(1x) Carrying case

(1x) Sample cuvette and (2x) caps

(1x) Marine Magnesium Starter Kit (reagents for 25 tests)

(1x) 1mL graduated syringe and tip

(1x) 5mL Syringe and tip with black printing

(1x) 5mL Syringe and tip with blue printing

(1x) 1.5V AAA Alkaline battery

(1x) Instruction manual

(1x) Quick reference guide