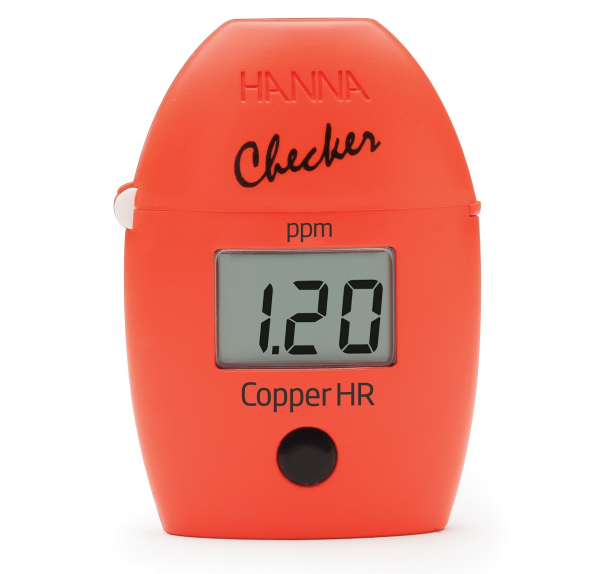 Hanna High Range Copper Colorimeter – Checker HC
Don't worry about the subjectivity of color charts, trust our handheld colorimeter for accurate measurements for your water testing.
Get better accuracy than a standard test kit with our high range copper colorimeter . Our handheld colorimeter eliminates the effort of matching to a color chart by delivering a direct copper result digitally.
Our portable handheld colorimeter is easily carried in your pocket.
Simple, one-button operation makes getting your copper results a snap
Quickly get your results without using a color chart
The HI702 Checker®HC (Handheld Colorimeter) is a simple, accurate, and cost effective way to measure high ranges of copper. Designed as a more accurate alternative to chemical test kits, the HI702 provides quick, accurate results in a few easy steps.
Features at-a-glance:
Easier to use and more accurate than chemical test kits
Dedicated to a single parameter
Small size, big convenience
Ideal for: Water quality, Environmental, Plating, Education
Specifications
Accuracy @ 25°C/77°F
±0.05 ppm ±5% of reading
Light Source
LED @ 575 nm
Light Detector
silicon photocell
Method
adaptation of the EPA method. The reaction between copper and the bicinchoninate reagent causes a purple tint in the sample
Environment
0 to 50°C (32 to 122°F); RH max 95% non-condensing
Battery Type
(1) 1.5V AAA
Auto-off
after ten minutes of non-use
Dimensions
81.5mm x 61mm x 37.5mm (3.2" x 2.4" x 1.5")
Ordering Information
HI702 Checker®HC is supplied with 2 cuvettes and caps, reagent starter kit (6 packets of reagent), 1 X 1.5X AAA battery, and an instruction manual.
Warranty
1 year limited warranty