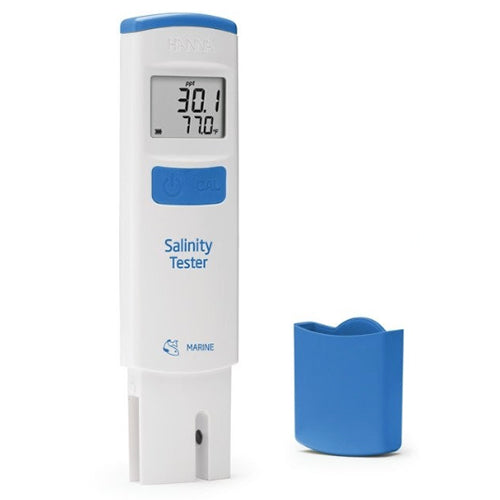 Hanna HI 98319 Waterproof Salinity Tester
Designed to bring simplicity to salinity testing during the any process, the HI98319 Marine Salinity Tester measures conductivity (EC) to determine the salinity of natural and artificial seawater. Within seconds, the salinity and temperature are digitally displayed on the LCD.
Displays results in parts per thousand (ppt), Practical Salinity Units (PSU), or specific gravity (S.G.).
Comes with all the necessary solutions and batteries- everything you need to get started measuring right away.
Ideal for testing salinity in aquariums, field, and industrial settings.
Better Features for Better Testing
An onscreen stability indicator ensures the highest level of confidence in your results. The selectable auto-off feature prolongs battery life for peace-of-mind and energy savings if the meter is accidentally left on.
Pocket Sized
The compact size makes the HI98319 Marine Salinity Tester ideal for on-the-go testing. The multilevel LCD display provides at-a-glance salinity and temperature readings from any angle while dual button operation streamlines the testing process for any user.
Long Battery Life
The included CR2032 Li-ion battery provides up to 100 hours of continuous use. The battery icon will blink to let you know it is time to change the battery so you never miss a measurement.
Graphite Sensors
Unlike stainless steel sensors, graphite sensors reduces polarization effects and does not oxidize for more reliable and accurate readings.
Durable Casing
Designed to withstand the knocks, drops, and spills of real life, the waterproof body ensures top performance in any environment. These meters are totally protected against dust and water intrusion from any direction.
Integrated Temperature Probe
Conductivity measurements are very sensitive to temperature variations. HI98319 has an exposed temperature sensor to ensure fast, accurately compensated readings even during sudden temperature fluctuations.
We believe that buying a tester should be simple. Your HI98319 Marine Salinity Tester is equipped with everything you need for successful testing right out of the box.
35.00 ppt Calibration Standard Sachet Solution (4)
When performing a calibration it is important that the correct buffers are used. We include some starter buffer to get you going. The single-use sachets are individually sealed so you use fresh buffer each time you calibrate.
Protective Case
Your tester comes with a complimentary carrying case to keep your tester safe from potential drops or bumps when not in use.
How to Measure Salinity?
Two of the most popular ways to measure salinity for aquariums are refractometers and conductivity meters. Our HI96822 digital seawater refractometer is used to measure salinity via refractometery while our HI98319 waterproof salinity and temperature meter measures salinity via conductivity.
What is refractometery?
With our HI96822 salinity determinations are made by measuring the refractive index of seawater. Refractive Index is an optical characteristic of a substance and the number of dissolved particles in it. Refractive Index is defined as the ratio of the speed of light in empty space to the speed of light in the substance. A result of this property is that light will "bend", or change direction, when it travels through a substance of different refractive index.
What is conductivity?
Conductivity is most commonly defined as a substance's ability to transmit heat, sound, or electricity. Small charged particles called ions help to carry the electrical charge through a substance. These ions can be positively or negatively charged. The more ions available the higher the conductivity; fewer ions will result in lower conductivity. Also, the higher the conductivity, the higher a solution's ability to conduct electricity. This is a result of a large number of charged ions present in the solution. Since the various elements used to make up salinity carry an ionic charge, conductivity is used to determine their gross concentration in water.
What is better for salinity?
When comparing conductivity to refractometery to measure salinity, the consensus among the scientific community favors conductivity. This is because there are non-conductive material which can impact the refractive index of seawater but not the actual salt concentration. For example, if we add sugar to artificial seawater, we will see that our salinity value will increase but we have not changed the concentration of salt in the water. If we measured the salinity of that sample with our HI98319 conductivity meter you'll notice the value is largely unchanged. It is common to have inflated values with a refractometer due to the large number of materials which will affect the density of that water outside of the dissolved salt values. For example, organic waste, sugars, potential non-ionic contaminants or uneaten fish food can increase the values produced on a refractometer but this would be less likely to occur on a conductivity meter like the HI98319. 
Salinity Range
0.0 to 70.0 ppt (g/L); 0.0 to 70.0 PSU; 1.000 to 1.041 S.G.
Salinity Resolution
0.1 ppt (g/L); 0.1 PSU; 0.001
Salinity Accuracy
±1 ppt for 0.0 to 40.0 ppt; ±2 ppt for readings over 40.0 ppt; ±1 PSU for 0.0 to 40.0 PSU ; ±2 PSU for readings over 40.0 PSU; ±0.001 S.G.
Salinity Calibration
automatic, single point 35.00 ppt
Salinity Temperature Compensation
automatic from 5 to 50.0 ºC
Temperature Range
0.0 to 50.0°C; 32.0 to 122.0°F
Temperature Resolution
0.1°C; 0.1°F
Temperature Accuracy
±0.5°C; 1°F
Battery Type / Life
CR2032 3V Li-Ion (1 pc.)/ approximately 100 hours of continuous use
Environment
0 to 50 °C (32 °C to 122 °F); RH max 100%
Dimensions
160 x 40 x 17 mm (6.3 x 1.6 x 0.7")
Weight
68 g (2.4 oz.) without battery
Ordering Information
Each meter is supplied with: CR2032 battery (inside the meter), Storage / Protection sleeve, Instruction manual, Quality certificate, and 35.00 ppt calibration standard sachet (4 pcs.)
Method
ppt - International Oceanographic Tables; PSU - Standard Methods for the Examination of Water and Wastewater, 2510 B, Electrical Conductivity Method; S.G.- Standard Methods for the Examination of Water and Wastewater, 2510 C, Density Method