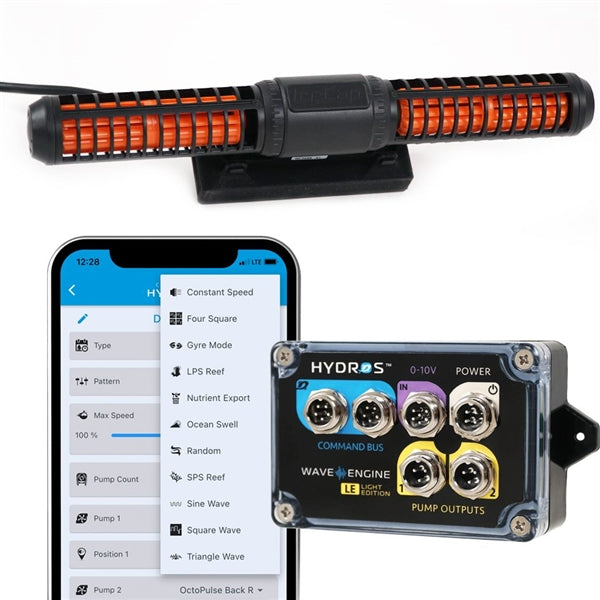 IceCap Gyre 4K Flow Pump with Hydros WE LE
IceCap 4K Gyre Flow Pump with WaveEngine LE Controller
The IceCap 4K Gyre Flow Pump is not only more powerful than its predecessor, it now comes with the powerful HYDROS WaveEngine Light WiFi controllable controller, allowing you to fine-tune your flow effortlessly and wirelessly from your mobile device.
Gyre 4K Pump Features & Benefits
Unique Gyre Flow: Virtually Eliminates Dead Spots
Evenly Distributed Linear Flow
Discrete Design
Can Be Mounted Vertically or Horizontally
Can Be Mounted Close to the Water Surface
Waterproof Magnet Mounts
Twin Directional Flow Cages
Includes 2 Sets of Propellers: Orange and Black
HYDROS WaveEngine and WaveEngine LE

 

Direct Drive

 

Compatible
1-Year Limited Warranty
The IceCap 4K Gyre uses officially licensed technology by Maxspect, creators of the original Gyre pump, to generate the now-iconic gyre water flow in your aquarium—but without breaking the bank! New for 2021 is the addition of the HYDROS WaveEngine LE WiFi Controller. The new controller utilizes CoralVue's powerful HYDROS platform to access life-like flow patterns, scheduling, and much more.
The IceCap 4K is also Direct Drive Compatible with the HYDROS WaveEngine and WaveEngine LE multi-pump controllers. More on that later!
Gyre 4K Technical Specs
Rating: Aquariums 25-150+ Gallons
Maximum Flow: 4,000 Gallons Per Hour
Minimum Flow: 1,286 Gallons Per Hour
Power Consumption: 13-45 Watts
Size (in): 12L x 3.15W x 1.7H
Weight: 711g/25.1oz
Cable Length: 6ft
Tank Thickness: Up to ⅝" thick
Glass or Acrylic: Safe for Both
HYDROS Pump Controller - Simplify the way we manage flow in our aquariums
The WaveEngine LE "Light Edition" allows you to easily add different brand pumps to your aquarium to obtain the ultimate flow. Specify the minimum and maximum speed each pump can run while working together in multiple flow presets such as sync, anti-sync, triangle wave, square wave, sine wave, and many other preset wave patterns. Connect up to two (2) pumps directly to the controller, removing multiple power bricks' clutter.**
App-Based Dual Pump Controller
A single app controls a variety of different pumps from your mobile device. Access all the features you desire without needing multiple apps, individual controllers, and bulky power supplies that require a "bird's nest" of cables and wires.
Until now, limited capabilities have restricted the simple controllers that manage popular pumps like the Maxspect Gyre, Reef Octopus Octo Pulse flow pumps.
In addition to this convenient and advanced control, you can reduce clutter by eliminating the DC power brick used by modern controllable pumps!
Direct Pump Driver
The HYDROS WaveEngine LE connects directly to the pump head, removing the clutter of the power brick and the control head for these pumps.
Maxspect Gyre XF-130 / 230, XF-150 / 250, XF-330 / 350, XF-280*
IceCap Gyre 1K, 3K, 2K, 4K
Reef Octopus RODC-2500, 3500 and 5500, VarioS-2 and 4, Octo Pulse 2 and 4
0-10V Input Control
RECIEVE commands from other devices, including push buttons, float switches, plus much more.**
Here Is What WELE Can Do
One App to Rule Them All!
The HYDROS App from CoralVue will completely replace the need for individual manual controllers and apps.
We can easily tap into the native control platform to access all the preset flow patterns and modes or create our own through modern technology! Connect wirelessly to the HYDROS WaveEngine and then communicate with your flow pumps.
Features:
Easily add pumps and specify the location of the pump in the aquarium as well as specify min & max speed a pump can run at
Use different brand pumps to work together in different flow preset such as sync, anti-sync, triangle wave, square wave, sine wave, and many other preset wave patterns.
Create multiple groups
Create and access operational modes such as Feed, Water Change, or Night mode
Monitor power consumption (volts, amps & watts) based on individual pumps & total consumption of all attached pumps
Monitor pump's RPM to ensure maximum performance
Full cloud connectivity so you can control your pumps from anywhere in the world
Real-time notifications of system status & pump performance
Define custom flow patterns of any duration up to 24 hours with 1/1000 second accuracy
Power up to 2 pumps with the Direct Drive ports using a single 100/240V 4 amp input power supply (included). The output is 24V/6 amps.
*Maxspect Gyre 280 pumps can only run at 75% max intensity. **An appropriate pump adapter
**PLEASE NOTE: An appropriate pump adapter or 0-10V cable (sold separately) is required to connect pumps directly to the HYDROS WaveEngine LE.