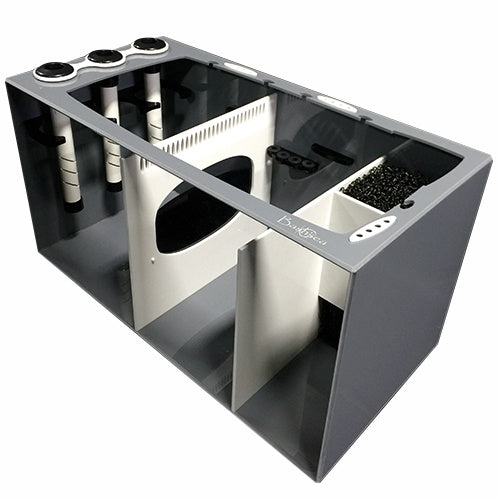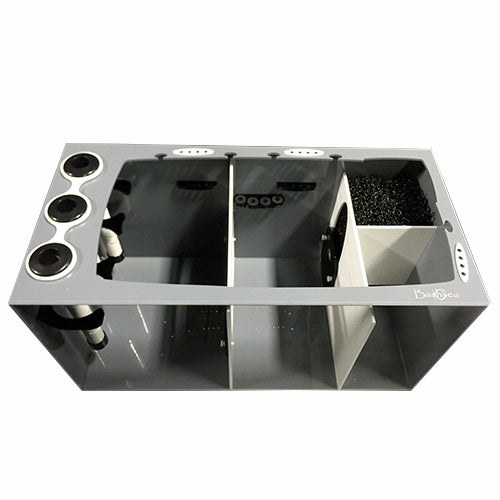 Bashsea Smart Series Sumps
Please note
: Color in pictures may be different, please make sure to check item title for the color you'll be ordering.
COLOR OPTIONS:  Grey sides and top bracing with colored baffles and trim:
Welcome to First Class! 
The only triton based sump in the industry that allows you to use the triton method ( refugium first) or traditional method (skimmer first)  by utilizing our duel slide control system and smart baffle design! 
The smart Series allows the end-user to completely control the filtration flow and method being used... The theory behind the smart series design is the hobbyist can change his or her mind on what filtration they want to use but will never need to change sumps! You don't want to miss out on these excellent craftsmanship.  Bashsea once again is bringing a spetacular sump to the industry, sparing no expense and cuting no corners when it comes to their line sumps. All Bashsea sumps are CNC and laser machined using a 2-step properitorial welding process right here in the USA. Utilizing a combination of 1/4" and 3/8", 100% ultra grade, all American cast acrylic, these sumps are built to last and will make you want to remove the cabinet doors to show how jaw-dropping your system looks now. 
Two sets of down tubes-- one short set if socks are being used and a longer set if the triton method is being used or you're not using the socks
The trim around the top of the sump has trimmed cutouts all around to help organize all those cords from equipement, as well as holes for dosing tubes.  No more over tightening those screws down on your probes either.  The Bashsea Smart Series also come with a 4 probe holder with non-slip grommets.
All Smart Series Sumps sections are fully adjustable with a built-in slide and include matala baffling material before the pump area for added biological value, microbubble management and to keep algae and debris from getting into the pump area!
All Smart Series sumps include Bashsea Nylon 200 micron sockl.  Socks are located in the front of the sump for easy maintenance and for full viewing control and operation overview.
Smart Series Specs:
 
Smart Series 
3015
3018
3615
3618
4815
4818         
Dimensions
30x15x16"
30x18x16"
36x15x16"
36x18x16"
48x15x16"
48x18x16"
Thickness
1/4"
3/8" Cast Body & Trim
Drains
3 - 1" Drain
3 - 1.5" Drain
Socks
3 - 4" Sock Holder with 200 micron socks
Adjustable Slides
Adjustable slides between each chamber
Drain Section
13x14.5"
13x17.5"
17x14.5"
17x17.5"
24x14.5"
24x17.5"
Middle Section
10x14.5"
10x17.5"
12x14.5"
12x17.5"
16.5x14.5"
16.5x17.5
Pump Section
6.5x8.25"
6.5x11"
6.5x8.25"
6.5x11"
6.5x8.25"
6.5x11"
Cord Outlets
Cord control in every section
Dosing Port Outlets
4 in each section; 12 total
Probe Holder with Non Slip Grommet
Yes