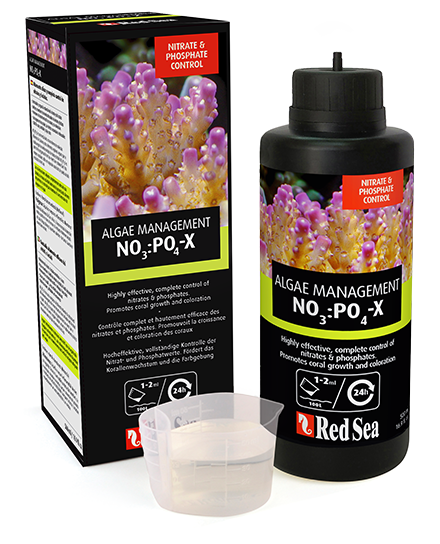 Red Sea NoPox
NO3:PO4-X
ALGAE MANAGEMENT

A complete, reef-safe, controllable solution for nitrate & phosphate reduction
NO3:PO4-X is the original, safest, most popular, and best solution that provides a full, reef-safe, controllable method for nitrate and phosphate reduction, thereby boosting coral growth and coloration in any reef or marine fish system.
Unlike other methods, the monitored dosing of NO3:PO4-X biologically reduces both nitrate and phosphate, while enabling the fine control of their levels. This fine control allows gradual changes and guarantees accurate maintenance of algae nutrient levels required to safely reduce nuisance algae and bring the symbiotic zooxanthellae algae to the optimal levels needed for boosting coral growth and coloration.
NO3:PO4-X is a unique complex of carbon substances and other organically bound elements that enhances the activity of nutrient reducing bacteria, which naturally exist in all marine aquariums. Each carbon source in the complex is utilized by different strains of microorganisms and together with the balanced ratio of enzymatic co-factors guarantee a complete and safe denitrification process (nitrate reduction) and phosphate reduction in the aquarium.
* Efficient protein skimming is critical to the safe use of NO3:PO4-X.
Features
Enables controlled nitrate and phosphate reduction for optimal coral growth and coloration
Reduces nuisance algae
Reef-Safe, with no undesirable side effects
Easy to use, reliable and cost-effective